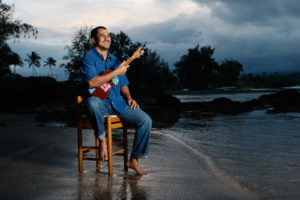 From the humble beginnings sitting next to his grandmother while she played piano for the local church in the small plantation town of Keaʻau(ʻŌlaʻa), Hawaiʻi to the streets of Tokyo, Lito has always had music as a major facet of his life.
Despite music surrounding his life as a youth, Lito only began to take his talent seriously when he left Hawaiʻi in 1995 for the US Navy not long after graduating high school.
During his 4 year tour in the Navy Lito travelled to over 30 countries of the world playing music along the way. Wether at sea or onshore, you would see Lito performing every chance he could get.
Since Lito's return to Hawai`i in 1999, Lito has been a professional musician performing at mostly every venue one could think of in the state Hawai'i. Wether it be for kamaʻāina or malihini (locals or tourists), Lito continues to entertain and compliment the mood of his venues treating each occasion as a unique experience to those attending.
Lito has since released two albums. His first album "Me Ke Aloha" released in 2014 was nominated as a finalist for "Most Promising New Artist" for the Nā Hōkū Hanohano awards (Hawai'i's equivalent to the Grammys). Lito's recently released album "Ku'upau" (2017) was nominated and a finalist for "Album of the year", "Engineering", and "Best male vocalist".
After listening to his albums one would think Lito solely performs only Hawaiian music. On the contrary, Lito's live performances offer a melting pot of genres focusing on Hawaiian music as his base and extending his personality through "oldies" such as The Beatles, Elvis, Bob Marley, Al Green, Lionel Richie, Elton John, James Taylor, Bill Withers, Willie Nelson, and much more.
What makes Lito so unique is that he transposes these classic contemporary hits to just his 'ukulele and his dynamic vocal range. By taking a "less is more" approach, Lito continues to fill up the room with music and wow the crowd but insists that his main focus is to always compliment the mood of any event yet all the while putting his heart and soul into every song he sings. Lito specializes in all types of events both large and intimate and will provide entertainment and sound system packages with smaller events from 12-300 guests.
Along with being a full time professional musician/entertainer, Lito is also a Lecturer at the University of Hawai'i Hilo educating students in Kinesiology, Hawaiian Studies, and Music departments.
What makes Lito even more unique, and when the timing is right,  he often shares the "moʻolelo" or History and/or story behind many of the Hawaiian songs that he performs as he helps to paint a beautiful setting to the music that he sings.
Lito has balanced his life of education and entertainment by incorporating them together through the art of engagement and his passion for music to make your event even more memorable. So no matter if you are sitting in one of his classes or at one of his events, you will leave entertained and engaged.
Mahalo Nui Loa for visiting Lito's official website.
Please feel free to contact Lito if you have any questions or would like to know more about his services.
Me ke Aloha mau a mau(with never ending Aloha)
Recent Press:
[su_accordion]
[su_spoiler title="Star Advertiser Review of Me Ke Aloha by John Berger " style="fancy"]
REVIEW BY JOHN BERGER / jberger@staradvertiser.com
Lito arkangel '… ME KE ALOHA' Lito Arkangel (Palm Records)
"Big Island resident Lito Arkangel is a Persian Gulf War vet and University of Hawaii at Hilo graduate who sings in a beautiful falsetto voice and accompanies himself on ukulele. Dwight Tokumoto (steel guitar) and Elmer "Sonny" Lim Jr. (acoustic guitar and acoustic bass guitar) are the only guests.
Although modern studio technology allows Arkangel to sing all the vocal parts his harmonizing is exquisitely traditionalist. It isn't likely Hawaii will get a Hawaiian album this year that's more traditional than this one.
The 12 songs represent two centuries of Hawaiian music. The oldest are 19th century standards — "Hi'ilawe" and "Ku'u Pua I Paoakalani." Among the newest are compositions by Robert Cazimero and Keali'i Reichel.
"Ku'u Pua I Paoakalani" is one of several songs that display his falsetto range in memorable style. "E O Mai" and "He Mana'o Aloha" show that he has a strong and smooth tenor voice too.
Arkangel does a beautiful job with the older songs as well."
Hawaiian lyrics and English translations are not provided and should be. Perhaps Arkangel will add them to his website www.litoarkgangel.com. ——— John Berger has been a mainstay in the local entertainment scene for more than 40 years. Contact him via email at jberger@staradvertiser.com.
Big Island falsetto singer Lito Arkangel celebrated the recent release of his debut album, "…me ke aloha," with his first public performance on Oahu at Pakele Live! on Thursday at The Willows in Moiliili. He recorded the album with guest musicians Dwight Tokumoto (steel guitar) and Elmer "Sonny" Lim Jr. (acoustic guitar and acoustic bass guitar) but proved himself a dynamic solo performer — singing and accompanying himself on 'ukulele — at The Willows. Arkangel opened with beautiful renditions of three of the Hawaiian standards on his album — "Pohai Ke Aloha," "Pua 'Olena" and "Hi'ilawe" — and entertained the audience with stories about each of them. He recalled that Lorna Lim, sister of Sonny Lim and the youngest member of the Lim Family, got to sing lead on "Pua 'Olena" because her older sister was late for the recording session, and said that although "Hi'ilawe" was written more than 100 years its description of busybodies gossiping is relevant today. "Hearsay still exists today," Arkangel explained. He added that when he does the song, "I sing all the verses. I want to be able to tell the whole story."
[/su_spoiler]
[su_spoiler title="Hawaii Public Radio review of Me Ke Aloha by Derrick Malama" style="fancy"]
Lito Arkangel Soars in Debut Album
By DERRICK MALAMA • SEP 16, 2014
Arkangel was born and raised in the sugar plantation town of Kea'au on the island of Hawai'i. He teaches at the University of Hawai'i at Hilo when he's not playing music. Lito's debut album is called "Me Ke Aloha" from Palm Records. He performed live in the HPR-2 studio on "Kanikapila Sunday" on September 14.
[su_audio url="https://cpa.ds.npr.org/khpr/audio/2016/01/Lito_Mixed_3.mp3″]
[/su_spoiler]
[su_spoiler title="Review of Lito's 2016 performance at Kauai's E Kanikapila Kākou by Carol Kouchi Yotsuda" by style="fancy"]
"Manuela Boy! My dear boy! You no mo' hilahila
. No mo' five cents, No mo' house
, you go ʻAʻala Pāka hiamoe!"
This ditty that we sang as kids took on real life form for us when we met Lito Arkangel, a home-grown product of Keaʻau on Hawaiʻi Island. Today a popular musician, dedicated teacher, father of three children with his beautiful wife Rayna, Lito still embodies many of the qualities of the delightful Manuela Boy we all knew in our lives growing up.
A child of divorced parents raised by his mother, he grew up in a family-oriented community where everybody's house was his home for which he is thankful, because who he is today is the result of the goodness of those who looked after him as a child. His friends and neighbors all had great big families and all of them treated him as one of them. Lito is grateful that he attended Keaʻau Elementary School because everyone he knows went to that same school; everyone knew and cared about each other. He appreciated that his teachers gave him the gift of music and song. In the military he was so homesick that he wanted to cry all the time; the music helped him to cope with the homesickness. He credits his Irish/Cherokee mother for her gift of a "guilty conscience" coupled with a lot of freedom, because without that he might have gone down the wrong path like many of his friends had done. Everything is about making the right choices. He perseveres to hold that gift and strives to do right by her. For all the hard times they once gave her, she tells him, "I watch your kids when I want to!"
Having served in the US Navy in the Persian Gulf War Conflict & Taiwan Missle Crisis on board the USS O'Brien DD-975 and earning a degree at UH Hilo, he lectures at UH Hilo in the departments of Ka Haka ʻUla O Keʻelikōlani College of Hawaiian Language, Kinesiology and Performing Arts. Musically, he began singing at backyard jams and is today recognized as a falsetto favorite whose recent CD, Lito Arkangel … Me Ke Aloha, a 15-year labor of love, was a finalist in the 2015 Na Hoku Hanohano Awards competition. "In this day of digital downloads, CDs are not really a good commercial investment, but just consider it a real expensive calling card."
Taking the EKK gig as an opportunity to spend some quality time together, Lito and Rayna spent a Valentine's Day date on Kaua`i away from his three kids and renovations to his new old house. Smart move. He reminded men that it is so important to treat the women in your life right. As much as you don't want to listen, it's important to zip your mouth, and listen, because in the end, guys always have the last say, "Yes, dear!"
When Lito sings, he sweeps his listeners along with the sheer power of his performance, his dynamic and often surprising falsetto, his animated expressions, vigorous `ukulele strumming and the many stories that share his personal connection with every song. Without that personal connection, the songs lose their meaning to Lito; without that meaning, the songs do not have the power that he packs into every performance. It was certainly a treat to have this artist share his music on Kauaʻi.
Accompanying him on steel guitar was his silent partner with his vast experience and musical mana packed into the awesome strains of his vintage Rickenbacker Lap Steel Guitar. Dwight Tokumoto, a long time teacher in special education in San Jose and Hawaiʻi, today spends his partial retirement working at a Charter School in Hilo. This gives him a lot of time to pursue his musical passions, something that started many years ago when he bought his first $25 Dobro at a garage sale. It was so old that parts of it were screwed together. He's come a long way and today plays music with the Kahulanui Big Island Singers, a nine-piece Hawaiian Swing Band. Dwight is married to Pua Tokumoto who produces the Tahiti Fete in Hilo. Together, they operate the Waipunalei Hawaiian Coffee Farm in Laupahoehoe. If you ever have a chance to sit and chat with this fine gentleman, you will discover a fascinating person with a lifetime of musical experiences.
Lito's stories set the stage for each song that he chose to share, beginning with a short chant. Many of the songs were well known favorites but his passionate delivery was truly Lito's own style and interpretation. In Hawaiʻi, there are generally two kinds of pōhaku, or rocks. The rocks full of puka, or holes, are like women; they can take a lot of heat. The solid rocks are like men, you heat them up and they crack and explode. With this observation, he dedicated his first song to women. Gently picking out the melody on his 'ukulele, Lito chose the perfect song for his voice – sweet, soft, sometimes soaring, melodic, full of emotion. Pua ʻŌlena by Jimmy Kaholokula, is a song that exemplifies humility . . . a quality that has been pounded into Lito by his mother, his kūpuna and all the wonderful women who healed, supported and fed him. The graceful hula dancer Kainani Viado, dressed in her Valentine red, shared her dance. Lito sent this song out to the entire Kaholokula family who just lost Robbie, younger son of composer Jimmy Kaholokula.
Lito has that indescribable quality and charismatic personality that makes you want to just hang out with him. When he's singing you want to call out, "Don't stop singing!" Lito poured his heart out with his amazing falsetto in his favorite love song Kealoha. He loved that his music prompted the hula dancers, Mahina Baliaris and Yumi Teraguchi-Locey, to share their hula.
He spoke about the composer of one of his favorite songs; she hails originally from Anahola and now makes her home on Hawai`i Island. When he was a 17-year-old high school senior who also attended college at UH Hilo, he met Kainani Kahaunaele. As a youngster he loved the boxes of 8-tracks that belonged to his Dad, a Viet Nam vet who worked in the plantation factory. Lito used to play them and especially loved the music of Karen Carpenter. He sang her song, Close to You because he felt such a connection to that song. When he met Kainani, he believed that Karen Carpenter had come back into his life as Kainani Kahuanaele, his Hawaiian Karen Carpenter. He said that she is today one of the most successful haku mele artists in Hawaiʻi with songs that have so much depth and meaning. One day Kainani needed to record the song Lei Hoʻoheno for a friend's wedding since she could not be there in person. She asked Lito to play the background music with his ʻukulele for the recording "because you're a better ʻukulele player than I am." He was so stoked with her compliment. He said that the ʻukulele is the easiest instrument to learn to play but it's also the most difficult instrument to master because there is so little to work with. He was surprised to learn that Kainani had composed that song for her God-daughter, who turned out to be Lito's niece. Small world and a really special personal connection to the song.
He talked about Hale ʻŌlelo, a beautiful new building on the UH Hilo campus where Hawaiian language & culture thrives. Professor Larry Kimura wrote a wonderful song called Kulāiwi, or Native Land. Lito's enthusiasm as he spoke about the building and the song that Larry Kimura wrote was so contagious that it made you want to fly over to Hawaiʻi just to take a look at it, a testament to the efforts of all those who played significant roles in making the resurgence of the Hawaiian language a reality in this lifetime.
Lito needs a personal connection to each song in order to sing it. One way he makes that connection is to play, play, play the song until he gets sick of it. It then becomes his own to really sing and interpret in his own style. This is what he did with the song Pua ʻĀhihi by Maddy Lam and Mary Kawena Pukui. What was his connection with this hula classic?
His friend Rupert Tripp Jr., who is like his big brother, took him to play a duet at the Brown's Beach House Restaurant, a place where the hula dancers rule. These veteran hula dancers usually choose the songs that the musicians are to play. He talked about Danny Girl, a veteran hula dancer who always "allowed" the musician to play the first verse so she could make a graceful entrance when they sang the first verse again. Danny Girl danced to Pua ʻĀhihi which Lito learned just to play for her. When he and Rupert Jr. were hired to play at Breakfast at Tiffany's at Waikoloa, the wealthy clientele took so long to exit after the event that they ended up singing Pua`Ahihi eight times in a row. He wanted to record the song on his CD. Sadly, he learned that Danny Girl had passed away from cancer, but he was glad he had the chance to play for her.
Because of the controversy going on up at Mauna Kea, some of his students ask if they could skip class to participate in the protest. He told them to make sure all within their kuleana was done first before they go up to the mountain. "Which is more important? Your education or Mauna Kea?" He posed that question to the students. Of course, they chose to go up to the mountain, but Lito chose to mark them absent. OOne of his favorite musicians is Gary Haleamau, who used to play for many years in Waikiki in the days when Hawaiian music was everywhere and now resides in Las Vegas. Gary's family wrote a song about the area between Mauna Kea and Mauna Loa, a place called Pōhakuloa. What an extraordinarily beautiful song, and Lito's falsetto is simply at its best in this song.
When asked to play on the Kamoa ʻukulele that was going to be given to one lucky winner, he sang another kūpuna favorite from west Hawaiʻi. I Kona is truly his kind of song; it gave Lito a chance to hit the rafters. After intermission, the Kamoa ʻukulele was won by Stan Greenbaum, one of our loyal snowbirds who lives part time in Kapaʻa and part time in Colorado. Sitting in the front row, he took a hop, a skip, and a jump to pick up his ʻukulele.
Just as Elton John sang about how he wished he had met Marilyn Monroe, Lito wished that he had met Aunty Edith Kanakaʻole while she was alive. He is thankful that he is very close friends with their entire family — daughters, grandchildren, great grandchildren, all of whom follow closely in her footsteps. He was honored when Kekuhi Kanakaʻole haku mele, or composed an ʻoli for his CD release party and told him that he was special. He feels a close connection with Edith Kanakaʻole because of her song Ka ʻUluwehi O Ke Kai. He feels that the ocean is such a profound resource that provides everything that one needs and that it is important to mālama the ocean. He believes that Hawaiʻi is a place where self-sustainabilty is possible but we all need to do it together. When he was playing music in Japan last April, he invited the Japanese hula dancers to stand up and dance wherever they were and was thrilled to see dancers popping up all over the concert hall in which he was singing. Another thrilling thing was a shout-out, "Welcome to Japan, Bruddah Lito!" from the famous Sumotori Konishiki who had come to see him perform in Japan. Just as they did in Japan, many hula dancers at EKK went up to perform to this classic hula – Namaka Lindsey, Mahina Baliaris, Elena Gillespie, Kainani Viado, Pua Raines, Alex Nelson and a lovely snowbird. There was so much joy and enthusiasm in the way Lito sings Ka ʻUluwehi O Ke Kai. He made it seem so fresh and new.
An interesting point Lito made was that in Hilo nobody claps. It's disturbing to some artists, but that's just the way it is in Hilo. There is so much talent on the island and there are parties all the time; lūʻau for every occasion happens every weekend. Lito asked himself what his kuleana as musician was at a lūʻau. A birthday lūʻau for a one-year-old is not for the musician; it's a mahalo for everyone who helped to raise the baby during the first and most vulnerable year of life. The party is not about the musician; a musician is there to compliment the celebration. So he is fine with no clapping or applause when he plays. Many of his gigs are comprised of playing at the Celebration of Life for the departed. He sings to help heal people. Sometimes he is so moved by the pent-up emotions that he has to excuse himself to his car and call his wife to tell her how much he loves her. It makes him realize how short and precious life really is. Funerals are a time to pay final respects for the departed and all the energy must go to the mourning.
Lito meant to share the song Kaleohano as his Leap Year surprise, but another song came up and took its place on his playlist. It turned out to be one of the most moving songs of the evening. He heard this song when playing with Ernie Cruz, Sr. at the Leialoha Ranch. Closing his eyes, he took his time in each song so you could get the essence of the melody and the lyrics, often shifting from a whisper to a full crescendo as the emotion of the song dictated. "English and Hawaiian songs are often closely related," said Lito, as he went into an unexpected medley combining a beautiful song sung by Willie Nelson, Angels Flying Too Close to the Ground, with Manu ʻŌʻō. Singing back and forth between the two songs, one could feel the connection of the imagery between the flying angels and the graceful flying bird of Hawaiʻi. Lito's soulful version of Manu ʻŌʻō is truly memorable. Dwight's steel sounds were so perfect for this song.
Lito warned about growing up kolohe (rascal) on a small island because word really gets around if your actions are not pono. He shared Princess Kekaulike's song written in the 1880s about flirting in the rain in Hilo. He also spoke of the usual rain called Kanilehua with sudden loud bursts of torrential rain that stops as quickly as it starts, often on a hot sunny day. He demonstrated how the rain falls in sudden heavy bursts . . . like gossip. Ka ua i ka nani o Hilo is about a man and a woman stuck in the rain with the conversation going back and forth between the two. He once had the idea of singing both parts of the conversation with his low bass voice and his high falsetto, but decided he should just sing the male version. He wanted to sing it with the suave charm and swagger of Johnny Almeida who re-recorded the mele and also, in his day, was the smoothest operator who used to sometimes sing as long as eight hours "live" on the radio. As he sang he tried to embody every bit of what he saw in the charming Johnny Almeida. This song was connected with his story of how he and Rayna ended up together.
It happened at the PolyRoom/Breakwater nightclub at the famous Naniloa Hotel, a party place he nicknamed "Break Wallet" because the drinks were so expensive. Thinking she had winked at him, or maybe she got something in her eye, he went to ask her to dance but was turned down flat and felt hurt and downhearted. After several attempts to reach her by phone, he gave up as she showed no interest in him. One day a mutual friend told him, "My friend Rayna like check you out." Of course his wife Rayna's version is that the same friend came and told her, "My friend Lito like check you out." A true matchmaker, her ploy worked. He wished he knew this song back in those days; it might have made it easier to hook up with her. Long story short, they are now happily married with three children.
He shared a story about the three piko in Hawaiian and his philosophy about living on the island. You really need to look for the positive in others. That is so important to be able to live on an island. He spoke about his aunty Connie Camarillo who was a great storyteller who gathered up the kids and told them ghost stories. Connie encouraged him to sing falsetto. When he was young he did not want to sing falsetto and be seen as a sissy but with the encouragement of this teacher and the singing in his high voice coming so naturally, he now embraces the style and is well known for his falsetto singing
Probably the song that was the most emotionally charged was his version of E Kuʻu Morning Dew by Professor Larry Kimura and Eddie Kamae. Lito sings with so much gusto, his face registers every possible emotion written into the song, moving from deep guttural sounds like old-time Hawaiian singers to the sudden high falsetto. He sang it first in his regular voice and the second time in his falsetto voice. "This song is my 'reset button'." When things go wrong he wakes up and sings this song and everything is all right again. He said this song goes out to anyone going through an ordeal right now. He knows how to make things right with his music because he is so sincere and authentic.
As the music dies down and the magic angel dust settles, fans walk out the door with great sighs of appreciation for the music and the artists they just experienced. Here is one talented artist touched by the gift of God who will keep that humbleness because at his very core he is still a "Manuela Boy" who remembers his roots.
To Lito: Never lose that, because that is the very essence of what makes you such an exceptional musical messenger.
Carol Kouchi Yotsuda, www.gardenislandarts.org — "Celebrating 39 years of bringing ARTS to the people and people to the ARTS"
E Kanikapila Kakou(EKK) 2016 Hawaiian Music Program is funded in part by the Hawai'i Tourism Authority, the County of Kaua'i Office of Economic Development, and the Garden Island Arts Council supporters with support from the Kaua'i Beach Resort.
Garden Island Arts Council programs are supported in part by the State Foundation on Culture and the Arts through appropriations from the Hawai'i State Legislature and the National Endowment for the Arts.
[/su_spoiler]
[/su_accordion]