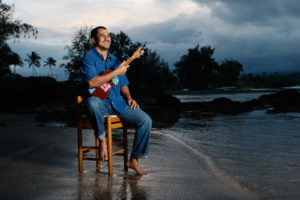 From the humble beginnings sitting next to his grandmother while she played piano for the local church in the small plantation town of Keaʻau(ʻŌlaʻa), Hawaiʻi to the streets of Tokyo, Lito has always had music as a major facet of his life.
Despite music surrounding his life as a youth, Lito only began to take his talent seriously when he left Hawaiʻi in 1995 for the US Navy not long after graduating high school.
During his 4 year tour in the Navy Lito travelled to over 30 countries of the world playing music along the way. Wether at sea or onshore, you would see Lito performing every chance he could get.
Since Lito's return to Hawai`i in 1999, Lito has been a professional musician performing at mostly every venue one could think of in the state Hawai'i. Wether it be for kamaʻāina or malihini (locals or tourists), Lito continues to entertain and compliment the mood of his venues treating each occasion as a unique experience to those attending.
Lito has since released two albums. His first album "Me Ke Aloha" released in 2014 was nominated as a finalist for "Most Promising New Artist" for the Nā Hōkū Hanohano awards (Hawai'i's equivalent to the Grammys). Lito's recently released album "Ku'upau" (2017) was nominated and a finalist for "Album of the year", "Engineering", and "Best male vocalist".
After listening to his albums one would think Lito solely performs only Hawaiian music. On the contrary, Lito's live performances offer a melting pot of genres focusing on Hawaiian music as his base and extending his personality through "oldies" such as The Beatles, Elvis, Bob Marley, Al Green, Lionel Richie, Elton John, James Taylor, Bill Withers, Willie Nelson, and much more.
What makes Lito so unique is that he transposes these classic contemporary hits to just his 'ukulele and his dynamic vocal range. By taking a "less is more" approach, Lito continues to fill up the room with music and wow the crowd but insists that his main focus is to always compliment the mood of any event yet all the while putting his heart and soul into every song he sings. Lito specializes in all types of events both large and intimate and will provide entertainment and sound system packages with smaller events from 12-300 guests.
Along with being a full time professional musician/entertainer, Lito is also a Lecturer at the University of Hawai'i Hilo educating students in Kinesiology, Hawaiian Studies, and Music departments.
What makes Lito even more unique, and when the timing is right,  he often shares the "moʻolelo" or History and/or story behind many of the Hawaiian songs that he performs as he helps to paint a beautiful setting to the music that he sings.
Lito has balanced his life of education and entertainment by incorporating them together through the art of engagement and his passion for music to make your event even more memorable. So no matter if you are sitting in one of his classes or at one of his events, you will leave entertained and engaged.
Mahalo Nui Loa for visiting Lito's official website.
Please feel free to contact Lito if you have any questions or would like to know more about his services.
Me ke Aloha mau a mau(with never ending Aloha)
Recent Press: